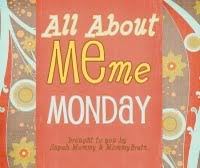 for today's MeMe Monday!

Today we're talkin' bout:

Now...who should I make mad by not including in my Thankful post?

It's not my fault...I didn't make the rules. The ladies obviously know I'm ADHD and OCD and can only handle 4 of anything at a time....

So. Should I be SERIOUS or HILARIOUS???

Yeah, So...

1. Thankful That isn't in style anymore...

2.Thankful I'm smart enough to teach my kids to clean the house!

3.Thankful I've Trained My Husband

4. Thankful Once A Month I Have The Option Of Using This As An Excuse:

(Even When I Feel Fine)

Okay Okay, I'll Stop Being So Serious and And Give You The Good Stuff:

I'm Thankful For:

2. I'm thankful I have Her in my life!

3. I'm Thankful I Worship In A Place Like This Every Week:

4. And I'm Really Thankful That I Got One Of These:

So I Can Do This:
FROM A TANGLED SOUTHERN GIRL!!