When Miss Talks-A-Lot was 2, her daddy and I took her to eat at a Russian restaurant. There just happened to be a belly dancer there. Her name was Jasmine, and
Missy T
fell in love!
She talked about this lady for 2 solid years after their chance meeting.
We would turn the television off just to watch her perform her "belly dance" moves...
Over the years with each ensuing birthday, I've asked
Missy T
to have an "Arabic" themed birthday because she is infact Arab and it seemed appropriate. But
Missy T
wasn't like most girls. She was never into Disney Princesses. Never wanted an "Arab" theme party.
That was...until this year! While at the fair in September, she had some henna done. To her surprise, it lasted about 2 weeks! That's when she came to me and finally said the words I'd longed to hear....
I want a henna party
. (Well, I didn't long for those exact words, but I knew what she meant!)
My very first thought (10 years later) was:
JASMINE!!!
Oh wait...How would I ever find her? I had not seen her since that night 10 years ago. I had not a clue as to what her last name was or how to go about finding her.
Hootie helping mommy make the cake. (Ofcourse, doing his part to keep the enviroment clean)
It turned out to be a very sad day in the TangledEutopia house. The cake turned out really, I mean really bad. But Kroger saved the day!!! Thank you bakery lady for having 4 tickets infront of me and still whipping up a sky blue 1/2 sheet cake in an hour! I love you for that!!!
He was soooo in to this! Can you believe it? (Really, it was just a way to get close to the cute belly dancer)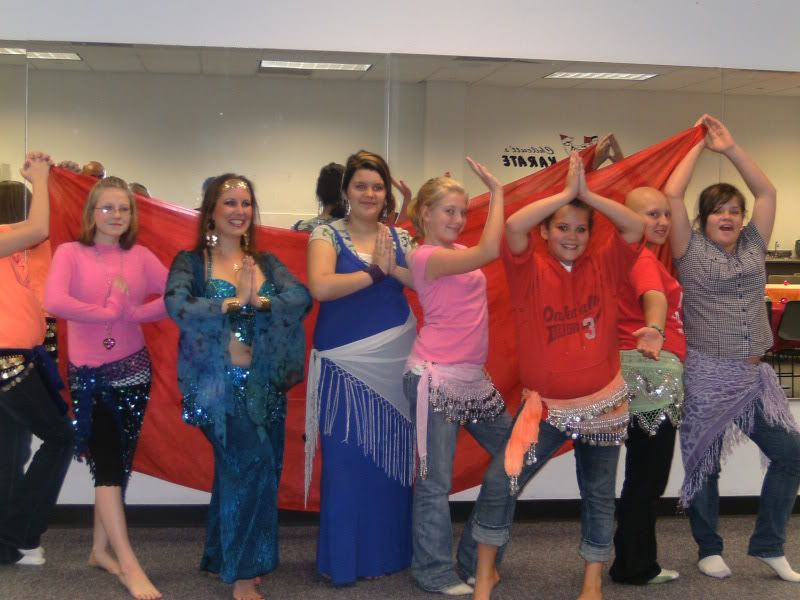 We had really really good Arabic food from Starter Husband's restaurant. ( He has an international market and restaurant with his brothers.)