Uggghhhh, Do I have To Do This? This post has been in hiding for about 132 years. And here I am...drudging it up for post.

It's Time. I've been working so hard on ME, that it's time to show you where I go for motivation:
ME: BEFORE (1996)
****************************************
ME:AFTER: 2004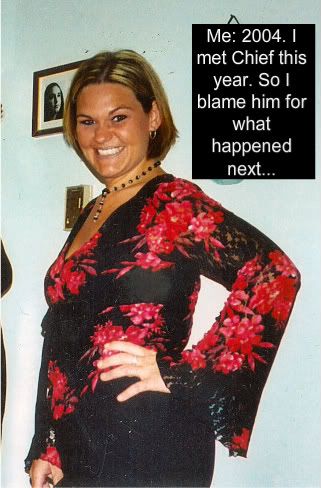 Now, keep in mind I looked like the picture above for the better of 9 years until getting pregnant with Hootie. I gained a whopping total of 70lbs. from harboring that 7lb. human inside my body for 9 months. What a freak I am for doing that....


Kidding, Kidding....Since having this precious bundle of Eutopia, I've lost
40lbs
of the 70lbs. (Geez, that hurt even more writing it the second time)


And I'm really excited about the next 30lbs. I'm workin' hard on it, but it never seems to move fast enough. I've been stuck trying to lose the same 2lbs. for a week now.

COME ON ALREADY

I'm sure the scales are tired of being redundant. I need to give them some action!!!


I CANNOT believe how difficult it has been to find a full length picture of me.
That should tell you where my psyche is...This picture with my brother was taken this past Sunday, at my Great-Grandmother's 90th Birthday. Speaking of brothers....ooohhhhh, I just had a "this is why brother's beat up sister's" RockStar Idea.....Stay Tuned!