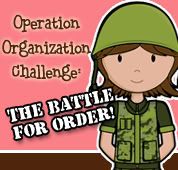 Make sure you go check out
Melinda's
blog after reading this. AND don't forget to leave me a comment to tell me you've grabbed the button and ENLISTED!!
Oh yeah baby!!! I'm jumpin' on this bandwagon FO' SHO....(yes, Missy T I used it again...)
All summer, I've been devising my plan. Planning my plot. Waiting for just the right moment to bumrush the aliens that live in that thing some call a home....I call it a house. It doesn't feel like home....And don't say Homes are supposed to be lived in.....blah blah blah....
My OCD is way to strong for unorganization. And I've found this great way to give my whole family a swift kick in the butt to prepare us for the beginning of school!
So get ready dear family of mine. With the changing of the season, comes a changing of the GUARD....The Mama Guard....
Keep checking back with me as I get FULL BLOWN with this.
DISCLAIMER:
*****************************************************************************
The owners of this blog,
TANGLEDEUTOPIA
, will not be held responsible for any of the following if one chooses to gaze at
before
pictures on said blog:
~Minor Medical Clinics for unexplained pain to the eyeballs
~Emergency Room visits (even if no copay is expected at time of visit)
~Emergency Vision Appointments
~AA, NA, or any other "Anonymous" type support group
BUT, if one chooses to gaze at
AFTER
pictures, one
MUST
do atleast 4 of the following:
~Send
MAMA
some love via any media necessary including but not limited to:
WAY TO GO
YOU ROCK
WOW I REALLY APPRECIATE YOUR HARD WORK
WHAT A NICE LITTLE (OKAY BIG) FAMILY YOU HAVE, ETC....